"The Latin from Manhattan." - The "Tico-Tico" lady.
---
Liner notes from Ethel Smith: Souvenir Album: Organ Solos with the Bando Carioca. Decca DLP 5016, Copyright 1949~:

   You couldn't call Ethel Smith a "Latin from Manhattan," because she's
   originally from Pittsburgh.  But if she _had_ decided to be born on
   Father Knickerbocker's island, the phrase would have fitted her
   perfectly --- for Ethel has been in love with Latin America and
   its music since she was ten.  Her most ardent childhood desire was some
   day to go south of the equator.  Not only did she realize that wish before
   she was twenty-three, but she also became _the_ foremost exponent of
   Latin rhythms on the electric organ.

   But let's go back to the beginning --- back to Pittsburgh, for it was here
   that Ethel received much of her sound musical background at Carnegie Tech.
   Institute where she studied piano, organ and, incidentally, Spanish.
   After graduation, she got a job playing in the pit for a Shubert show.
   It was her first taste of commercial musical life and she liked it well
   enough to tour with the company for twenty-eight weeks.

   Next came an offer to accompany a singer in one of Hollywood's studios.
   One day, on the set, she noticed a Hammond Electric Organ --- at that time,
   only recently developed.  She took to it immediately.
   Apparently, it took to her, too, for an alert and advertising-wise dealer
   saw in her nimble-fingered playing an excellent way to demonstrate the new Hammond.
   He not only let her practice on it to her heart's content,
   but also allowed her to take it with her to Florida where she was
   booked for an engagement playing accompaniment for a trio in a little
   Bavarian restaurant.
   Ethel soon adopted the electric organ as her chosen solo
   instrument --- mainly because it responded so sensitively to the highly
   colorful tropical rhythms she loved so well.

   When Cordell Hull sailed southward to attend the first Pan-American conference,
   Ethel was one of the few women who traveled with his party.
   She had managed to snare the post of chairman of the entertainment committee.
   Her first and long-dreamed-of South American trip, it served to whet her
   appetite for other more extensive expeditions --- for she had decided to
   make a first-hand study of the native music.
   Her travels below the border eventually encompassed some seventeen
   Caribbean and South American countries.
   "For a while," she says, "I became a regular tropical hep chick.
   I stuck my nose into every smoky cabaret that boasted a native orchestra.
   Whenever they let me, I'd sit in with the boys for a little Latin jam session.
   That way it didn't take long to collect a trunk-load of authentic and out-of-the-way
   rhythms and melodies --- including such lush and sultry-sounding ones as chacareras,
   milongas, bambucos, pasillos, guarachas, habaneras and, of course,
   the traditional sambas, rumbas and congas."

   So well did Ethel learn to interpret the music of South America
   that she was offered an engagement at one of its most
   celebrated night spots --- Rio De Janeiro's Copacabana.
   While she was playing here, an executive of a tobacco company invited her
   to return to New York for the "Hit Parade" radio show.
   Ethel was featured as one of its stars for over a year.
   Then a talent scout from Metro-Goldwyn-Mayer suddenly awoke to
   the fact that not only was Ethel's music a delight to the ear,
   but that Ethel, herself, was extremely photogenic.
   She was offered a contract, at what she considered a "fantastic figure"
   and, modestly but definitely, accepted.
   Since that time she has been featured in a wide variety of films,
   sharing musical sequences with such men as Harry James, Gene Krupa,
   and Van Johnson.
   Whether she is heard in sweet music or swing, she is as entertaining
   and as authentic as she is original.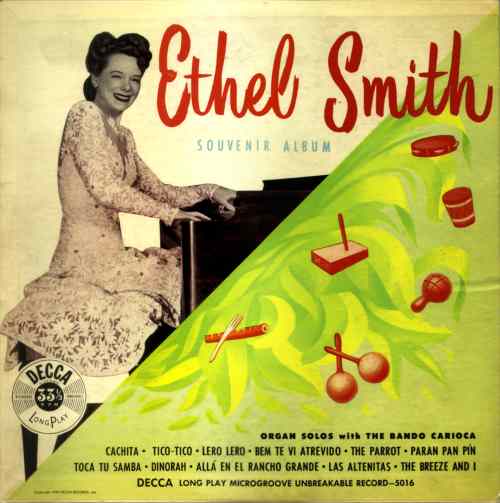 ---
Links
---